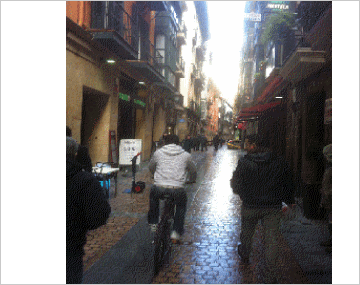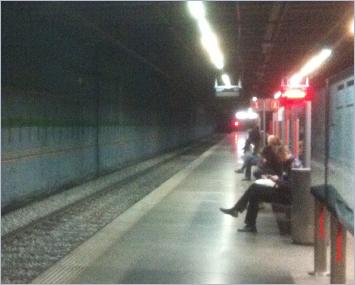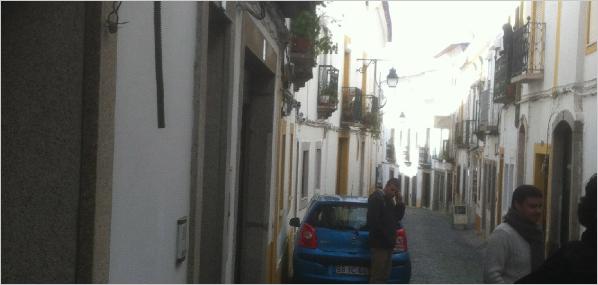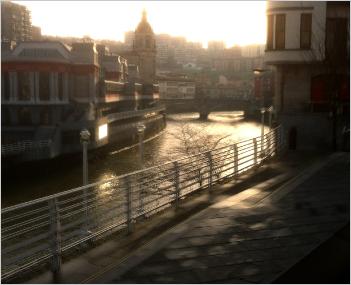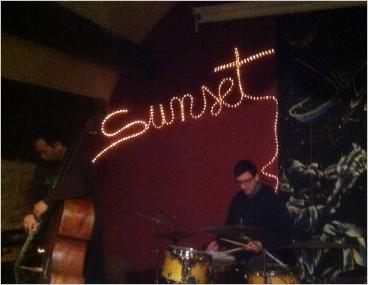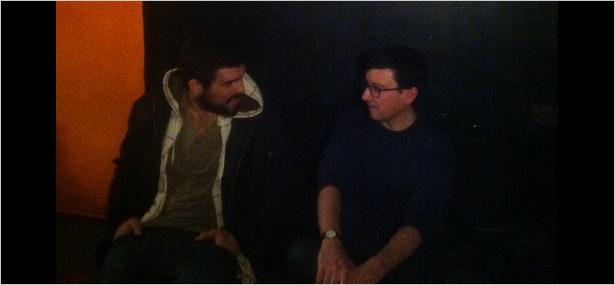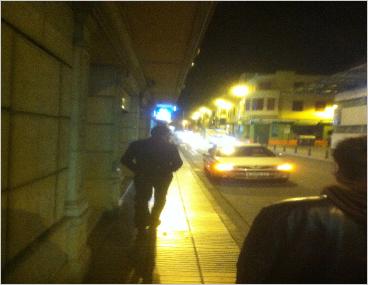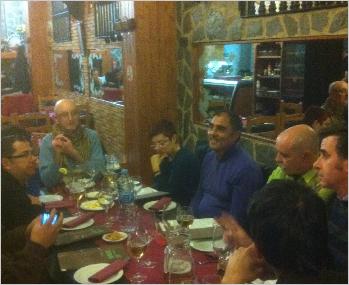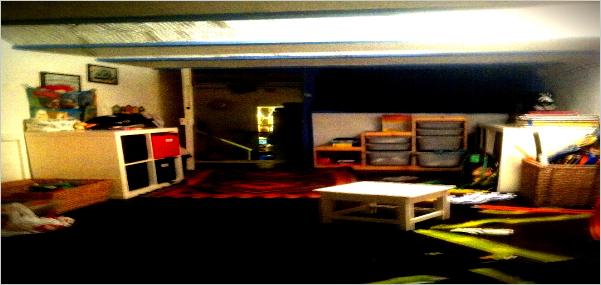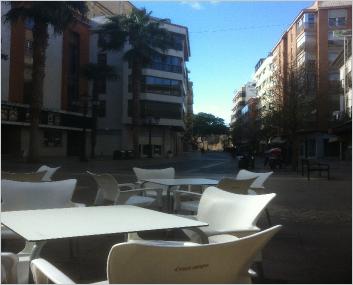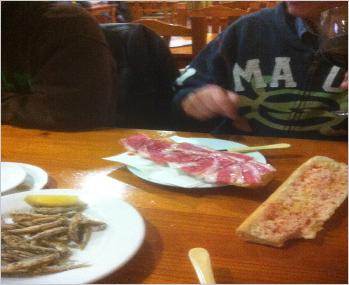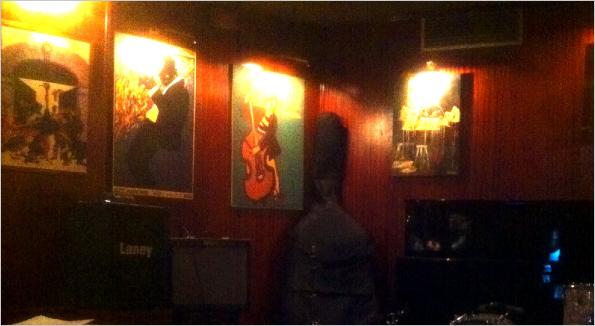 Tuesday, February 12 Austin, TX
Been home about a week now. The flight back was pretty horrendous. I had a really close connection in Munich that I had to run to make and then we sat on the tarmac for 3 hours. I got to Newark about 40" before my next flight to Austin and was delayed at Customs and then my bag took forever to show up - missed the connection so had to wait a couple of hours for a flight to Houston, wait a couple of hours there for a flight to Austin. The trip back (door to door) took 27 hours. But for the bulk of it I was in first class and it was nice to have a flat bed. I only slept about 2 hours in the two days though. Sure wish I could sleep on airplanes. Since I've been back I've been doing make-up lessons and teaching, practicing and playing a few gigs. My 335 felt great for a few days after playing the tele but as time passes I'm starting to feel stale again. Crap
Monday, February 4, 4:30am Barcelona Airport
On my way home. Got to the airport way too early because I was worried about missing the flight. Tried to go to bed at 11:30 but couldn't sleep. Dozed off about 2am and woke 3:15. Cab came to Masa's 3:30, airport by 4am, through security and drinking coffee by 4:30. Gate not posted yet. Munich first then Newark then Austin.
Had a great time playing with Masa. I was definitely fading by the last couple of concerts though. Sometimes it was easy to play the tele and sometimes very difficult. 335s are a lot more forgiving. We drove to Valencia and played at Cafe Mercedes and made pretty much nothing. They only gave us 2 drinks - either beer or soda. Charged €10 and they gave us 40% of the door. Got about 12 people 10 of whom left after the first set. There was one couple who stayed for the whole 2nd set. Wanted their monies worth I guess.
I'm going to see if Lufthansa has posted the gate yet. More later.
Tuesday, January 29
Made it back on Ryanair with no problems. A real trip though: totally packed flight, Masa had the guitar neck under his jacket, no reserved seating, anything (including water) cost extra. Got back that afternoon and played a gig with David Xirgu at Sunset and that was really great. They treated us very, very well, a big crowd, a good amp, the room had a good sound. Here's our meal
Played at 23 Robedors last night with Masa and David and it was a lot of fun. On the train over started having some gastric distress and barely made it to the restroom there but after that everything was okay. There was no guitar amp and the bass amp didn't work but luckily a guy named JÚsus lived close by and had an amp (Peavy) that he brought over - sounded fine. I got my pedals to work and was able to use the PDS 8000. We played all originals including Mike Cain's "Emanations." Back to c/Clot 18 but midnight, electric out, water heater leaking to had no water.
Next day no toilet or shower, headed to airport about 5, got to Lisboa about 9 and Carla, Eduardo's wife, met me at airport. Back to Cascais for sleep, up at 6, to Evora by 8, masterclass until 5, back to Cascais by 8pm, dinner. Seabass for me, liver for carla, octopus for Eduardo. Back to house, disassemble guitar, pack, asleep by midnight. 6am wakeup tomorrow. Read for a bit. Tired.
Thursday, January 24
On the bus from Gijon to Bilbao about noon on Thursday, January 24. Had a nice concert last night with Masa and Eduardo - the crowd was very friendly and I did a solo guitar encore. Lots of Monk but a couple of originals, some standards, one or two Wayne tunes. Sold a few CDs. My 1Spot was able to adapt the 240 current for my effects pedals but added a ton of noise so I went out this morning and bought some batteries. It's been pretty easy travel so far with no delays. I left for the airport about 8:30am on Monday, my flight to Newark was full but uneventful. I had a 4 hour layover in EWR and used a coupon to sit in the United Club and use the wifi (and drink wine and eat crackers and cheese). I was careful not to drink too much wine for once. I got an exit row to myself for the EWR to Barcelona flight, we had heavy tailwinds, the movies weren't too bad. I forgot to take a Melatonin but it doesn't work for me anyway so I didn't sleep more than 20". Saw 3 movies. Got to Barcelona about 8am their time, my checked bag was there, had some really good coffee, found the Renfe train no problem, got a T10 pass and made it to Masa's Clot apartment about 9:30am. Hung out with Masa and Patricia until about noon and then tried to sleep. Woke up about 2pm and that was it for sleep for the day. Had a bite then went out for a walk. Back about 4 hung out with Patricia for a while then tried to figure out what to bring for Gijon and Bilbao. Kind of a problem because masa and I are flying back to Barcelona tomorrow on RyanAir and the carry-on policy is very strict. I'm going to have to take the Tele apart and stick the neck down the back of my pants under my jacket in order to bring it on board. But I fit everything in my carry on.
About 7 had a bite then went for another walk. It started to rain so back about 8. Masa and I were supposed to head to the airport via train at 5am the next morning so my plan was to go to sleep about 9:30. Didn't happen. I dropped off about 10:30 and woke at 1:30am and couldn't get back to sleep. Read until 4:30, took a shower, we went to the airport at 5. Arrived Gijon about 9am, took the bus into town, got to the hotel about 10:30, checked in and by then 11:30. Emails, etc., went for Pinchos and wine, back to hotel about 1:30pm, tried to nap but could only do a couple of hours. Put my guitar back together, new strings, practiced until 5 went for soundcheck. Crappy amp, bad sound but ran some tunes with Masa and Eduardo. Finished about 6:30, more pinches and wine, concert at 8, finished and packed up by 10, out for dinner. Chicken and egg place where we had the pinches. I ordered Jamon y Chorizo eggs and potatoes. Way more meat than I could ever eat, lots of grease, good eggs and bread. Could only eat about half but since I hadn't slept or ate a lot in the last 36 hours it helped. Back to the hotel about 11:30, read until 12:30 and went to sleep. Woke up at 3:00 and worried about staying awake for the rest of the night but I dropped off about 4 and slept until almost 9. That felt great. 7-8 hours for the first time in quite a few days. Shower, shave, out for bottled water/batteries (9v batteries about €5 each - ouch), coffee in the hotel, pack, go to bus station. 3 more hours or so on the bus then Bilbao. Gig tonight about 10:30-12.